Bathrooms have evolved over time in terms of fashion and functionality; thoughtful consideration of the current trends can help you get the most out of your remodeling project while creating a long-lasting aesthetic.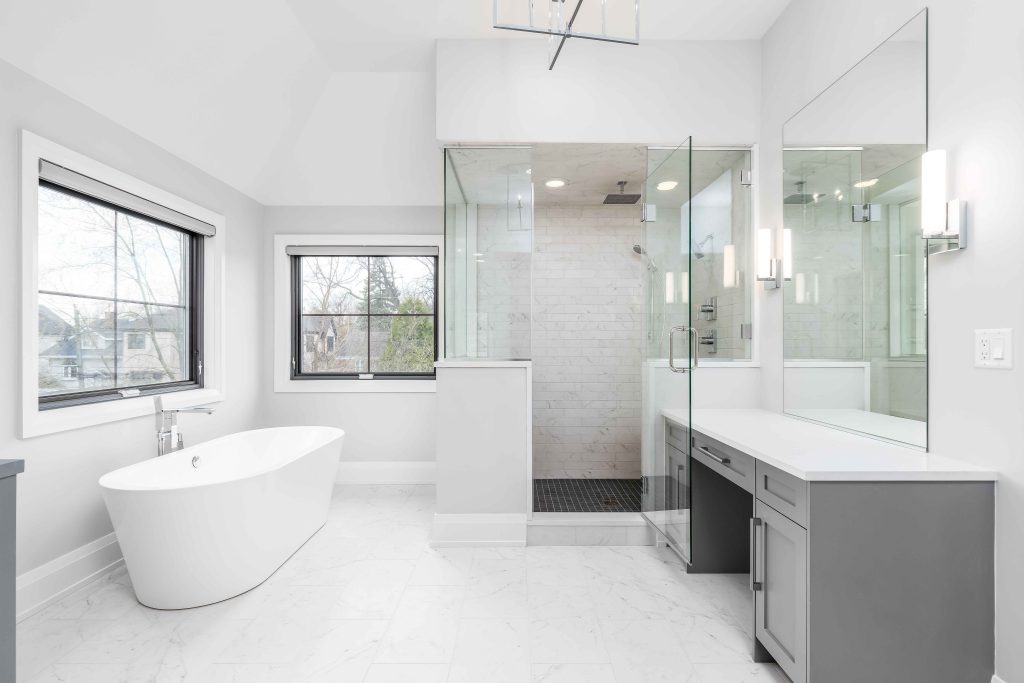 Bathroom remodeling is a great way to add value and comfort to your home. Not only it can help increase the value of your property, but it can also improve your quality of life on a daily basis. As a local contractor experienced with bathroom remodeling in Orange County we are well-versed in integrating the latest design trends into bathroom layouts while maintaining a beautiful new look while keeping the bathroom functional. As an experienced general contractor we are knowledgeable not only of the best materials available, but also the latest trends and styles which can both fit within any budget and aesthetic requirements. Investing in bathroom remodeling adds both beauty and practicality to any bathroom space, turning it into an inviting safe place for you as well as potential buyers down the road.
Bathroom renovations can be an overwhelming process without the right contractor. bathroom remodeling needs to be carefully planned and executed in order to achieve the desired result. If you're looking for a bathroom remodeling company in Orange County, it's important to consider a few key factors including whether or not they are licensed, insured and have experience with bathroom remodeling in particular. Additionally, testimonials from past clients can give you a better sense of their overall work quality and reliability. Ultimately, bathroom remodeling is best when it is done accurately with help from certified contractors that understand the scope of work involved for each individual project. 
If you are in need for professional bathroom remodelers in OC please contact us for a free estimate! 
Our Customers
Love Our Work!
Baraca Remodeling was recommended to us and we couldn't be happier. They were communicative, insightful, thorough, and most importantly on budget and under time. We love what they were able to do with our backyard and can't wait to use it!
We worked with Baraca on a few projects in our home this past year. They did such an amazing job and made this entire remodeling process so easy for us. If you are looking for a general contractor I really recommend Baraca Design and Remodeling!
Five stars are not enough for these guys. Exceptional attention to detail and made the process run so smoothly. My bathroom turned out amazing!!! Thank you so much! I am finally enjoying one of the most important spaces in my home. Great job!! Cheers!
Lets Get Started on Your Next Project!